Have you always wanted to crochet but find it intimidating to start?
Nods, Nadia (my assistant) did too until she met Irish crochet designer and teacher Aoibhe Ni. After one, 30-minute lesson she was hooked (pun intended) and has been a fan of Aoibhe's work ever since.
As part of our Starter Series, we asked Aoibhe to share her signature style along with all the tips, techniques, and troubleshooting you would need to go from 'never held a hook' to 'crocheting like a pro'. What she delivered was a beautiful, all-encompassing Zero to Crochet course that leaves no one left behind.
Today on the blog, we wanted to introduce Aoibhe to those of you who may not know her. Aoibhe is an experienced Crochet Designer and Teacher, and along with her stunning designs, she has a fun personality and quick wit all of which you should get a taste of from reading the questions below.
We broke this down into professional questions and some personal questions so that you can all get to know and love Aoibhe as much as we do.
The Professional
When did you first hold a crochet hook and who taught you how to crochet?

The first time I held a crochet hook is lost in the neon mists of the 1980s at this stage. Still, I do remember sitting beside my Mam as she crocheted a giant granny square blanket when I was about 9 or 10 and finding the motion of her hands and the journey of the yarn through her fingers and into the blanket absolutely mesmerising.
I had learnt to knit from her already, so the act of making fabric out of yarn wasn't alien to me. Still, crochet seemed new and exciting, and soon after found myself focusing hard and making my first ever crochet stitches under my mother's instruction. She was and is a wonderful teacher, so I was lucky that she instilled not just the knowledge of, but a love for crochet, too.
Why Tunisian crochet?
I adore crochet, and I'll admit freely that I prefer the act of crocheting over knitting. There's a wonderful organic logic to it and a freedom that only crochet has. But, I will also admit that knitting has so much going for it, and as a crocheter, I've often been envious of the textures and techniques available to knitters.
So, when I discovered Tunisian crochet, I suddenly realised I could have the best of both worlds. Tunisian crochet uses a hook, and some basic crochet techniques, but the rules associated with it would be wholly familiar to any knitter already.
In fact, it's often easier to teach knitters to Tunisian crochet than it is to teach crocheters!
You see, Tunisian crochet hooks tend to be longer than traditional hooks, and they're elongated because Tunisian requires lots and lots of loops, and works row upon row much like knitting. In fact, if you can "Pick up and Knit", you can crochet Tunisian already, you just haven't done it with a hook yet!
With a distinguished career and decades of crochet experience under your belt, can you tell us how or where you find your inspiration?
This is a question that used to scare the socks off me!
I just had no idea where my inspiration came from. I just.. had ideas… out of the blue. And I would often feel that I was letting people down when I wasn't able to answer that question adequately.
But after ten or so years of designing, I have started to figure out my process, and it's this;
Mathematics and naps.
That combination really does seem to be the trick for me. For one, I have always loved geometry; how shapes fit together, what shapes will make a flat plane, what shapes will curve an object into a sphere. It feels like magic to me.
So, I take that love into every design. For me, it's all about the pressure in a piece. If I increase somewhere, do I have to decrease elsewhere, or is the increase necessary at that point to keep a shawl from ruffling in the middle? The ebb and flow of increases and decreases, how triangles cut and shape each other is what it's all about for me.
The napping helps me get to a twilight zone where my ideas can take shape. I have yet to find a better place to put together a new design than with my head on a pillow. I have notebooks all over the house for just such moments because inspiration can often be fleeting!
Do you have a favourite project type of working on?
Almost every design idea I come up with is for a shawl of some kind.
Not only do shawls allow me to play with all that delicious geometry, but they're also a garment that can be made and enjoyed by anyone, of any shape, size or gender.
The act of wrapping a shawl around your shoulders immediately makes it fit you. That egalitarian quality makes them a pleasure to design for me because I know I'm not leaving anyone out of the fun.
Equally, they don't take up a tonne of yarn, so they are economical, which is another factor I keep in mind as I design.
And they are an easy way to add a pop of colour or a personal touch to any look, and who doesn't like an easy fashion win?
What is the best thing about being a crochet designer and teacher?

The people!
I love hearing from people who have made my designs, and I am thrilled whenever I spot a project that modified my original concept. It shows a great wealth of creativity and individuality, I think, and I am so pleased to see that my patterns are adaptable and that people are willing to put their own spins on them.
Meeting groups of makers is always an inspiring thing, too. There is nothing as invigorating as chatting to fellow crocheters and knitters and talking to them about what they're making and what they plan to make next. There is an energy in the air during a class or a trunk show that's wholly energising, I find.
I'm never unhappy in a room full of people who have plans, and makers always have plans.

Do you have a favourite hook and yarn combination, if so, can you tell us why?

At the moment I am all about the fingering weight yarn. It seems to me to be perfect for Tunisian crochet. Two skeins or about 800 m will net you a medium-sized, warm, squishy shawl, for instance, and doesn't take long to make.
Tunisian is traditionally a very dense fabric, but by using a much bigger hook than recommended (in my last shawl, Lunula, I used fingering weight yarn and a 5.5 mm hook), you end up with larger, more airy stitches and a shawl that works up in very little time.
If you could introduce yourself to people who don't know you with three crochet projects, which three would you choose and why?

I think the three that show my adoration for geometry and shapes best are Finola, Macha and Anansi. They're the there that I got the most thrill out of working on for that very reason. I get such a buzz when I realise all my crocheting and mathematical modelling has resulted in the effect I was hoping for.


What are you most proud of professionally and personally?
I'm both proud and grateful that I get to do the thing I love every day.
It is a lot of hard work, and I have many, many different hats to wear on any given day. I also had to learn from scratch how some of those hats worked. And that's where the pride comes from; because even though photography, and accounting, and admin and the more "businessy" hats were a real challenge for me, I figured it all out eventually.
The gratitude comes from the fact that as much as I worked hard, I am also blessed with a support network I can rely on. Friends, colleagues, and of course, Dave and Korra (and dearly missed Rosie, the dog!) have been a huge part of why I kept working and kept building my business.

 Who have been your biggest supporters?
How long have you got!?
This Is Knit have been there cheering me on and working with me from my very first pattern release, and Carol Feller has given me absolute gems of wisdom and guidance over the years. I'd not be doing any of this without the support and the example set by both.
I have so many amazing customers and friends who help spread the word, who test make my patterns, who host crochet-along, who teach classes, who buy my patterns on release day and who send me kind emails and comments every other day of the year.
Many of those customers and friends are also in my Patreon family, and that very practical and tangible support means I can focus on designing and I can take chances with patterns rather than spending every month stressing about rent and bills. These people are my heroes, and they really, genuinely have buoyed me up through some very tough times. They all deserve gold medals, but since I don't have a gold mine, I gift them with exclusive monthly crochet animal patterns instead.
And have I mentioned my guru, friend and guiding light Nadia? That woman is a literal fountain of information and advice, and anyone looking to work in the industry would do very well to visit her website and leave the tab open and available forever.
Was there a moment that you could define as your big break?

For me, it's been somewhat of a slow, inevitable slide into legitimacy! And as much work as it's been and as many times as I considered packing it all in over the last decade, I'm grateful I didn't have a big break.
I'm autistic, so sudden change is tough to deal with. Any sudden success would have been quite a shock and a challenge to recover from.
So, slowly but surely building up my business has been the best outcome for me, and I'm blessed it has all happened in a manner than I can feel pride and joy in.
Do you have any goals that you would like to achieve in 2021?

I had intended 2020 to be the year I would release "Common Thread", a complete book of patterns inspired by Irish historical fabrics, clothing and adornments. But as everything ground to a halt in the Spring and all our priorities naturally shifted, I determined it would be best to pivot a little and modify that plan.
So far, 2020 has seen me design, build and launch a website of my own, as well as release two of the patterns I had designed for Common Thread; Lunula, and Ard Ri, and I've launched a range of hand-hammered shawl pins, too.
I've also filmed and built up 3 full hours of crochet tuition videos for the Zero to Crochet beginners course, which I am so excited about releasing.
Next year will see the release of more patterns for the Common Thread collection using some truly beautiful yarns. I am hopeful that 2021 will see me able to emerge from my protective bubble to once again host trunk shows, teach classes and attend yarn festivals with all the people I miss so terribly right now.
The Personal
What's the last thing you watched on TV and why did you choose to watch it? 
I'm in the middle of my thousandth viewing of the entire Star Trek franchise right now.
I joke about how starting my day with a cup of coffee, and The Enterprise is essentially my mental health strategy, but there is a lot of merit to it.
All the stories are about overcoming the odds, working together, learning from our mistakes, and seeing the best in people, and that is a good note to begin a day on.
Coffee or Tea?
Both! But not at the same time. That would be extravagant!
Coffee gives me a kick start in the morning before I begin work. Anyone who has ever tried to collaborate with me knows I am useless before my second cup.
Then, the day is spent making cups of tea as much for the caffeine as to encourage me to get up and stretch my legs between marathon bouts of crochet, pattern writing or pattern help.
What do you work towards in your free time?

It's often challenging to justify "free" time when you run a small business, but I do try to take the occasional whole day off to refresh my head.
On those days, I find it tough just to sit and not do anything, so I fill the day up with making things. I'll buzz around the house and make home-made wine, or I'll draft a pair of trousers to sew later, or I'll darn some socks (yes! Every sock, even shop-bought ones, deserve a little love), or plant some seedlings in the veg patch.
I like to be useful and capable, and learning a new skill is something that brings me great joy.
Can you name a book that you think we should all read?
I have an odd taste in books, I warn you!
I have a condition called aphantasia, which means that while most people can close their eyes and "picture" something in their mind's eye, I can't at all. I have nothing. So, in general, my reading choices tend to be dry and fact-based because fiction requires too much imagination, whereas information sticks.
If I need a good, familiar read, I reach for A Short History of Nearly Everything by Bill Bryson. Still, if that seems too much like fun, I will happily dip into The Brehon Law Handbook by Victorian-era antiquarian and nationalist politician, Laurence Ginnell.
Despite the aphantasia, three fiction books have managed to make it onto my annual reading list; Dune by Frank Herbert, The Hitchhiker's Guide to the Galaxy by Douglas Adams, and Pride and Prejudice by Jane Austen.


Do you have a personal motto?

Until this year, it was "head down, keep pedaling", but 2020 has seen that shift to "Do what you can with what you have", which I feel has the same energy, but is a lot gentler on my mental health.
Favourite quote and why? 
"Be kind, tell the truth, and don't be afraid."
It's a quote attributed to poet Seamus Heaney, though I believe it's a translation of something he wrote in Latin.
I saw it written in chalk on the wall of the Liberties Market in Dublin years ago, and it struck me as wise, gentle and concise. What a wonderful, powerful thought, simply put.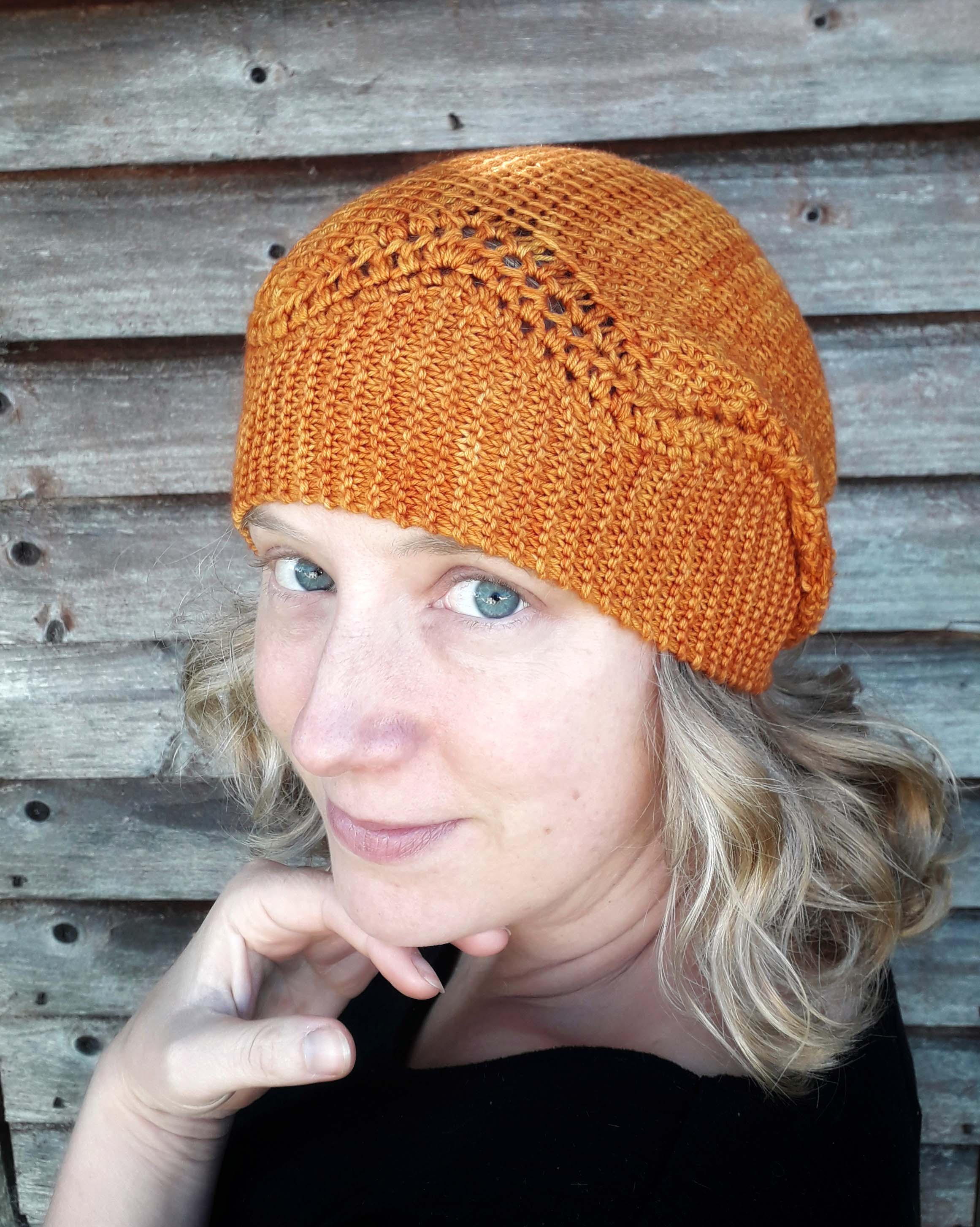 About Aoibhe Ni
Aoibhe Ni (pronounced AY-Vah NEE) is a Tunisian Crochet designer from Ireland.
Crocheting for over 30 years and designing professionally for ten, Aoibhe's signature patterns have been featured in books and magazines internationally and has taught students from all over the UK and Ireland.
A pioneer of the "Short Hook" Tunisian crochet method for both lace and colour work shawls, Aoibhe is also known to dabble in amigurumi, traditional crochet, and knitting.
Aoibhe doesn't believe in mistakes, instead calling them "alternative methods" and loves to see her patterns adapted and altered by those who make them.